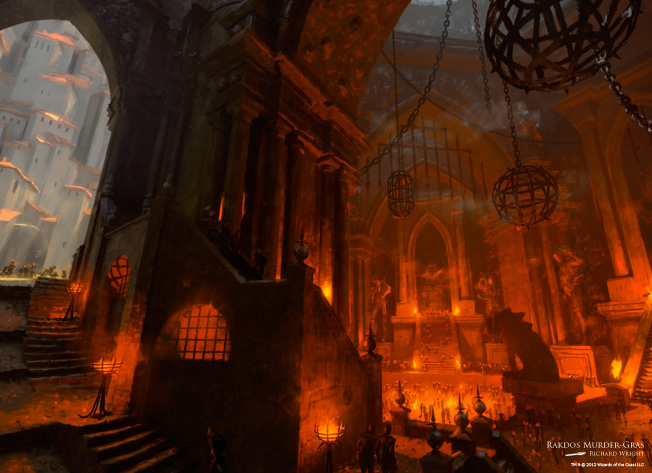 Rakdos Cult
My Chaos. My Carnage. My Guild.
Hedonists, criminals, psychopaths and sadists all gather together in the Cult of Rakdos. Joined under the leadership of a powerful demon named Rakdos, those in the Cult have an instinctual bloodlust coupled with a strong desire for power. The order of the day in the Rakdos Cult is sadism, cruelty, and opportunistic violence simply for the fun of it. They believe that all of Ravnica should bow to their whims, and anything or anyone that gets in their way is fair game. The guild –if it can even be called that- lacks any semblance of a formal structure. The members loathe authority, rules, and anything that gets between them and their freedom, so no laws exist in the Cult except the imperative to please their demonic master. The activities of the guild are run by a loose affiliation of Rings which are essentially different spheres of influence commodities and cult followers, each led by a Ringmaster.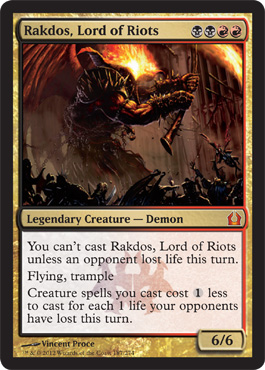 Guild Leader:
Rakdos the Defiler
One of Ravnica's founding guildmasters, Rakdos is an ancient and immensely powerful demon. Mercurial and megalomaniacal, he wields authoritarian power over his guild and wants everything to happen on a grandiose scale. It's not uncommon for him to roar with delight at his followers performances one moment and order them to be set on fire the next. While he is awake he is the undisputed center of attention. His followers seek to please his every whim be it mutilation, murder, or anything else. Nothing is spared to please the demon. When he slumbers (which he often does for days at a time) the cult members dial back the chaos and murder.
Rakdos Accessories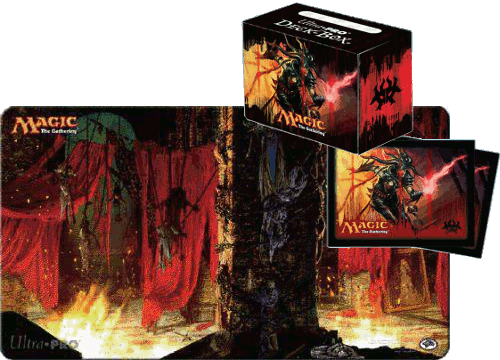 0
$29.95