Format Legalities
Format:
Block Constructed
Standard (T2)
Extended
Modern
Legacy
Vintage
Commander (EDH)
Legal: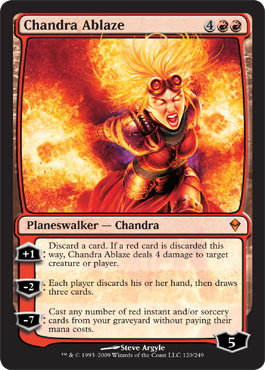 Official Oracle Text
+1: Discard a card. If a red card is discarded this way, Chandra Ablaze deals 4 damage to target creature or player.
-2: Each player discards his or her hand, then draws three cards.
-7: Cast any number of red instant and/or sorcery cards from your graveyard without paying their mana costs.
Official Rulings
---
Comments on Chandra Ablaze
Feel free to post any comments or questions you have on this card. Please be respectful of others. Any spam or trolling posts will be removed. Repeat offenders may be banned