Willbender

|

Magic: The Gathering
Formats Willbender is Legal in
Block

Standard

Modern

Legacy

Vintage

Commander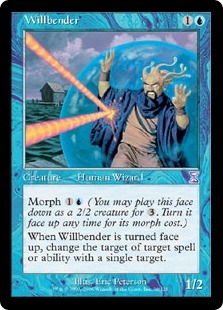 Official Oracle Text for Willbender
Type:
Creature — Human Wizard
Card Text:
Morph (You may cast this face down as a 2/2 creature for . Turn it face up any time for its morph cost.)
When Willbender is turned face up, change the target of target spell or ability with a single target.
Official Rulings for Willbender
10/4/2004 : The trigger occurs when you use the Morph ability to turn the card face up, or when an effect turns it face up. It will not trigger on being revealed or on leaving the battlefield.

4/15/2013 : If a spell with split second is on the stack, you can still respond by turning this creature face up and targeting that spell with the trigger. This is because split second only stops players from casting spells or activating abilities, while turning a creature face up is a special action.


---
Comments on Willbender
Feel free to post any comments or questions you have on Willbender. Please be respectful of others. Any spam or trolling posts will be removed. Repeat offenders may be banned.