Verdant Force

|

Magic: The Gathering
Formats Verdant Force is Legal in
Block

Standard

Modern

Legacy

Vintage

Commander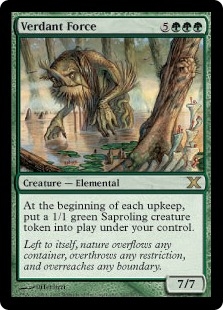 Official Oracle Text for Verdant Force
Type:
Creature — Elemental
Card Text:
At the beginning of each upkeep, put a 1/1 green Saproling creature token onto the battlefield.
Flavor Text:
Left to itself, nature overflows any container, overthrows any restriction, and overreaches any boundary.
Official Rulings for Verdant Force
10/4/2004 : Verdant Force's controller gets the tokens. That is the controller at the beginning of upkeep.

8/1/2005 : Once created, the tokens are independent of Verdant Force.  If Verdant Force changes controllers, the new controller will put tokens onto the battlefield, but existing tokens will stay where they are.

5/1/2006 : In Two-Headed Giant, triggers only once per upkeep, not once for each player.


---
Comments on Verdant Force
Feel free to post any comments or questions you have on Verdant Force. Please be respectful of others. Any spam or trolling posts will be removed. Repeat offenders may be banned.