Triskelion

|

Magic: The Gathering
Formats Triskelion is Legal in
Block

Standard

Modern

Legacy

Vintage

Commander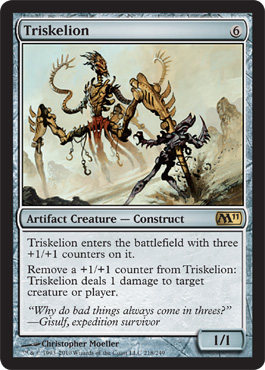 Official Oracle Text for Triskelion
Type:
Artifact Creature — Construct
Card Text:
Triskelion enters the battlefield with three +1/+1 counters on it.
Remove a +1/+1 counter from Triskelion: Triskelion deals 1 damage to target creature or player.
Flavor Text:
"Why do bad things always come in threes?"
—Gisulf, expedition survivor
Official Rulings for Triskelion
8/15/2010 : If you activate the ability of an attacking or blocking Triskelion during the declare blockers step, it will deal less combat damage as a result. If you wait until the combat damage step, but Triskelion is dealt lethal damage, it'll be destroyed before you get a chance to activate its ability.

8/15/2010 : If Triskelion has damage marked on it, activating its ability may cause that damage to become lethal. For example, say a Triskelion with two +1/+1 counters on it has been dealt 2 damage earlier in the turn. If you activate its ability by removing a +1/+1 counter from it, it now has 2 toughness and is destroyed as a state-based action. You won't be able to remove the other +1/+1 counter from it to activate its ability again. The first activation of the ability will still resolve.


---
Comments on Triskelion
Feel free to post any comments or questions you have on Triskelion. Please be respectful of others. Any spam or trolling posts will be removed. Repeat offenders may be banned.