Spirit Link

|

Magic: The Gathering
Formats Spirit Link is Legal in
Block

Standard

Modern

Legacy

Vintage

Commander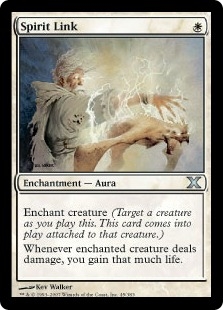 Official Oracle Text for Spirit Link
Card Text:
Enchant creature (Target a creature as you cast this. This card enters the battlefield attached to that creature.)
Whenever enchanted creature deals damage, you gain that much life.
Flavor Text:
"We are all inextricably linked, souls woven in tapestry."
Official Rulings for Spirit Link
10/4/2004 : Damage that is redirected is not dealt to the original creature or player, but it is dealt to the new creature or player.

10/4/2004 : You only gain the life when the triggered ability resolves. If you are reduced to zero life before the ability resolves, you will lose before gaining the life.

4/1/2008 : You gain life for all damage which is not prevented, regardless of what the creature damages (player or another creature) or the toughness of the blocking creature. If you put this on a 5/5 and it is blocked by a 1/1, you still gain 5 life.


---
Comments on Spirit Link
Feel free to post any comments or questions you have on Spirit Link. Please be respectful of others. Any spam or trolling posts will be removed. Repeat offenders may be banned.