Spirit Bonds

|

Magic: The Gathering
Formats Spirit Bonds is Legal in
Block

Standard

Modern

Legacy

Vintage

Commander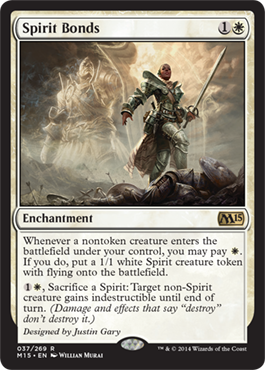 Official Oracle Text for Spirit Bonds
Card Text:
Whenever a nontoken creature enters the battlefield under your control, you may pay . If you do, put a 1/1 white Spirit creature token with flying onto the battlefield.
, Sacrifice a Spirit: Target non-Spirit creature gains indestructible until end of turn. (Damage and effects that say "destroy" don't destroy it.)
Flavor Text:
Designed by Justin Gary
---
Comments on Spirit Bonds
Feel free to post any comments or questions you have on Spirit Bonds. Please be respectful of others. Any spam or trolling posts will be removed. Repeat offenders may be banned.