Shriekmaw

|

Magic: The Gathering
Formats Shriekmaw is Legal in
Block

Standard

Modern

Legacy

Vintage

Commander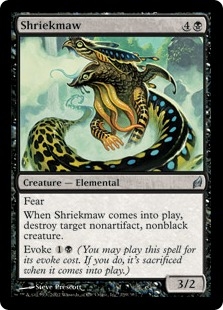 Official Oracle Text for Shriekmaw
Type:
Creature — Elemental
Card Text:
Fear (This creature can't be blocked except by artifact creatures and/or black creatures.)
When Shriekmaw enters the battlefield, destroy target nonartifact, nonblack creature.
Evoke (You may cast this spell for its evoke cost. If you do, it's sacrificed when it enters the battlefield.)
Official Rulings for Shriekmaw
4/15/2013 : If you cast this card for its evoke cost, you may put the sacrifice trigger and the regular enters-the-battlefield trigger on the stack in either order. The one put on the stack last will resolve first.


---
Comments on Shriekmaw
Feel free to post any comments or questions you have on Shriekmaw. Please be respectful of others. Any spam or trolling posts will be removed. Repeat offenders may be banned.