Shiv's Embrace

|

Magic: The Gathering
Formats Shiv's Embrace is Legal in
Block

Standard

Modern

Legacy

Vintage

Commander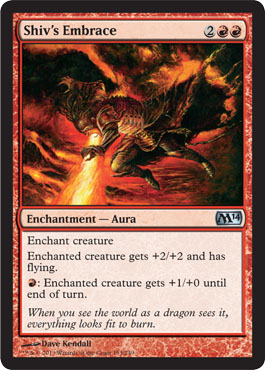 Sets Shiv's Embrace is in
Official Oracle Text for Shiv's Embrace
Card Name:
Shiv's Embrace
Card Text:
Enchant creature
Enchanted creature gets +2/+2 and has flying.
: Enchanted creature gets +1/+0 until end of turn.
Flavor Text:
When you see the world as a dragon sees it, everything looks fit to burn.
Official Rulings for Shiv's Embrace
8/15/2010 : Only Shiv's Embrace's controller (who is not necessarily the enchanted creature's controller) can activate its activated ability.

8/15/2010 : When Shiv's Embrace's activated ability resolves, the creature Shiv's Embrace is enchanting at that time will get +1/+0 (regardless of what creature Shiv's Embrace was enchanting when the ability was activated). If Shiv's Embrace has left the battlefield by then, the creature it was enchanting at the time it left the battlefield will get +1/+0.


Others who bought Shiv's Embrace also bought...
---
Comments on Shiv's Embrace
Feel free to post any comments or questions you have on Shiv's Embrace. Please be respectful of others. Any spam or trolling posts will be removed. Repeat offenders may be banned.