Sakura-Tribe Elder

|

Magic: The Gathering
Formats Sakura-Tribe Elder is Legal in
Block

Standard

Modern

Legacy

Vintage

Commander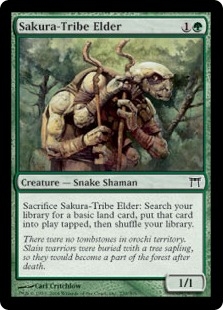 Sets Sakura-Tribe Elder is in
Official Oracle Text for Sakura-Tribe Elder
Card Name:
Sakura-Tribe Elder
Type:
Creature — Snake Shaman
Card Text:
Sacrifice Sakura-Tribe Elder: Search your library for a basic land card, put that card onto the battlefield tapped, then shuffle your library.
Flavor Text:
There were no tombstones in orochi territory. Slain warriors were buried with a tree sapling, so they would become a part of the forest after death.
---
Comments on Sakura-Tribe Elder
Feel free to post any comments or questions you have on Sakura-Tribe Elder. Please be respectful of others. Any spam or trolling posts will be removed. Repeat offenders may be banned.