Format Legalities
Format:
Block Constructed
Standard (T2)
Extended
Modern
Legacy
Vintage
Commander (EDH)
Legal: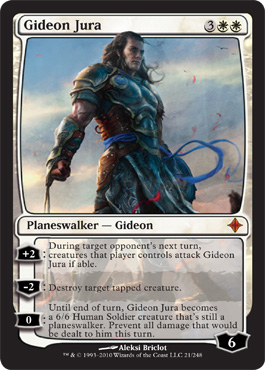 Official Oracle Text
+2: During target opponent's next turn, creatures that player controls attack Gideon Jura if able.
-2: Destroy target tapped creature.
0: Until end of turn, Gideon Jura becomes a 6/6 Human Soldier creature that's still a planeswalker. Prevent all damage that would be dealt to him this turn.
Official Rulings
---
Comments on Gideon Jura
Feel free to post any comments or questions you have on this card. Please be respectful of others. Any spam or trolling posts will be removed. Repeat offenders may be banned