Primal Clay

|

Magic: The Gathering
Formats Primal Clay is Legal in
Block

Standard

Modern

Legacy

Vintage

Commander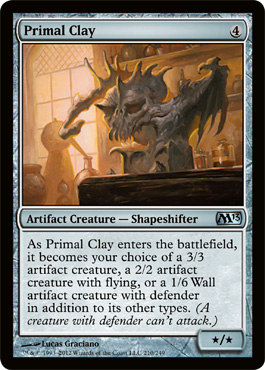 Official Oracle Text for Primal Clay
Type:
Artifact Creature — Shapeshifter
Card Text:
As Primal Clay enters the battlefield, it becomes your choice of a 3/3 artifact creature, a 2/2 artifact creature with flying, or a 1/6 Wall artifact creature with defender in addition to its other types. (A creature with defender can't attack.)
Official Rulings for Primal Clay
7/1/2012 : In zones other than the battlefield, Primal Clay is 0/0.

7/1/2012 : If another permanent enters the battlefield as a copy of Primal Clay, the controller of that permanent will get to make a new choice. The copy won't necessarily have the same power, toughness, and abilities as the original.

7/1/2012 : If a creature that's already on the battlefield becomes a copy of Primal Clay, it copies the power, toughness, and abilities that were chosen for Primal Clay when it entered the battlefield.


---
Comments on Primal Clay
Feel free to post any comments or questions you have on Primal Clay. Please be respectful of others. Any spam or trolling posts will be removed. Repeat offenders may be banned.