Path to Exile

|

Magic: The Gathering
Formats Path to Exile is Legal in
Block

Standard

Modern

Legacy

Vintage

Commander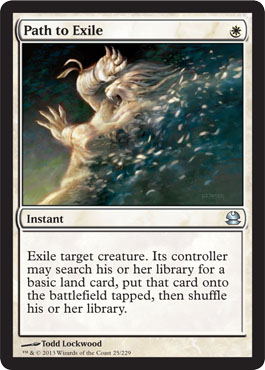 Official Oracle Text for Path to Exile
Card Text:
Exile target creature. Its controller may search his or her library for a basic land card, put that card onto the battlefield tapped, then shuffle his or her library.
Official Rulings for Path to Exile
2/1/2009 : If the targeted creature becomes an illegal target by the time Path to Exile would resolve, the entire spell is countered. The creature's controller won't get to search for a basic land card.


Others who bought Path to Exile also bought...
---
Comments on Path to Exile
Feel free to post any comments or questions you have on Path to Exile. Please be respectful of others. Any spam or trolling posts will be removed. Repeat offenders may be banned.