Murder Investigation

|

Magic: The Gathering
Formats Murder Investigation is Legal in
Block

Standard

Modern

Legacy

Vintage

Commander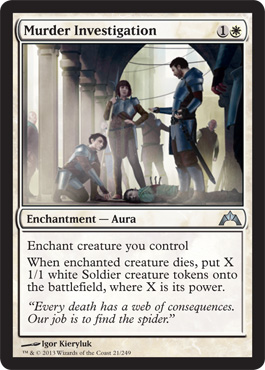 Official Oracle Text for Murder Investigation
Card Name:
Murder Investigation
Card Text:
Enchant creature you control
When enchanted creature dies, put X 1/1 white Soldier creature tokens onto the battlefield, where X is its power.
Flavor Text:
"Every death has a web of consequences. Our job is to find the spider."
Official Rulings for Murder Investigation
1/24/2013 : To determine how many Soldier tokens are created, use the power of the enchanted creature as it last existed on the battlefield.

1/24/2013 : If another player gains control of either Murder Investigation or the enchanted creature (but not both), Murder Investigation will be enchanting an illegal permanent. The Aura will be put into its owner's graveyard as a state-based action.


Others who bought Murder Investigation also bought...
---
Comments on Murder Investigation
Feel free to post any comments or questions you have on Murder Investigation. Please be respectful of others. Any spam or trolling posts will be removed. Repeat offenders may be banned.