Merseine

|

Magic: The Gathering
Formats Merseine is Legal in
Block

Standard

Modern

Legacy

Vintage

Commander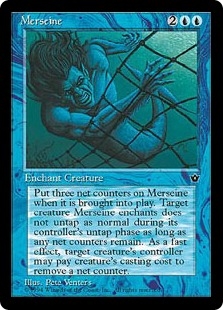 Official Oracle Text for Merseine
Card Text:
Enchant creature
Merseine enters the battlefield with three net counters on it.
Enchanted creature doesn't untap during its controller's untap step if Merseine has a net counter on it.
Pay enchanted creature's mana cost: Remove a net counter from Merseine. Any player may activate this ability, but only if he or she controls the enchanted creature.
Official Rulings for Merseine
10/4/2004 : Can remove as many counters per turn as you want to and this can be done at any time instants are legal.

10/4/2004 : The cost that needs to be paid includes colored mana requirements.


---
Comments on Merseine
Feel free to post any comments or questions you have on Merseine. Please be respectful of others. Any spam or trolling posts will be removed. Repeat offenders may be banned.