Memory Lapse

|

Magic: The Gathering
Formats Memory Lapse is Legal in
Block

Standard

Modern

Legacy

Vintage

Commander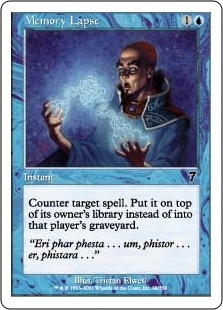 Official Oracle Text for Memory Lapse
Card Text:
Counter target spell. If that spell is countered this way, put it on top of its owner's library instead of into that player's graveyard.
Flavor Text:
"Eri phar phesta . . . um, phistor . . . er, phistara . . ."
Official Rulings for Memory Lapse
10/4/2004 : The card does not go to the graveyard before being put on the library.

10/4/2004 : This card has a self replacement. This means that it replaces going to the graveyard before any other effect can replace that event. If Flashback is applied, however, Flashback will change the destination.

10/4/2004 : If the spell is not countered (because the spell it targets can't be countered), then it does not go to its owner's library.


---
Comments on Memory Lapse
Feel free to post any comments or questions you have on Memory Lapse. Please be respectful of others. Any spam or trolling posts will be removed. Repeat offenders may be banned.