Format Legalities
Format:
Block Constructed
Standard (T2)
Extended
Modern
Legacy
Vintage
Commander (EDH)
Legal: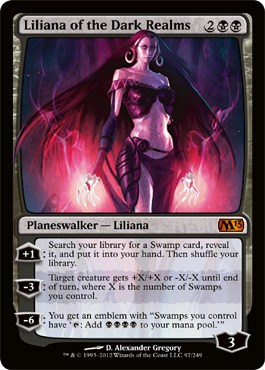 Official Oracle Text
+1: Search your library for a Swamp card, reveal it, and put it into your hand. Then shuffle your library.
-3: Target creature gets +X/+X or -X/-X until end of turn, where X is the number of Swamps you control.
-6: You get an emblem with "Swamps you control have '

: Add




to your mana pool.'"
Official Rulings
---
Comments on Liliana of the Dark Realms
Feel free to post any comments or questions you have on this card. Please be respectful of others. Any spam or trolling posts will be removed. Repeat offenders may be banned