Leviathan

|

Magic: The Gathering
Formats Leviathan is Legal in
Block

Standard

Modern

Legacy

Vintage

Commander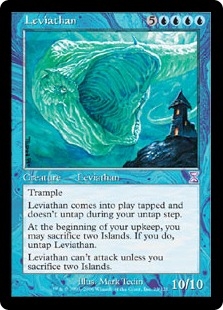 Official Oracle Text for Leviathan
Type:
Creature — Leviathan
Card Text:
Trample
Leviathan enters the battlefield tapped and doesn't untap during your untap step.
At the beginning of your upkeep, you may sacrifice two Islands. If you do, untap Leviathan.
Leviathan can't attack unless you sacrifice two Islands. (This cost is paid as attackers are declared.)
Official Rulings for Leviathan
10/4/2004 : You don't have to pay the untap cost if it is untapped outside the upkeep phase or is untapped by an effect.


---
Comments on Leviathan
Feel free to post any comments or questions you have on Leviathan. Please be respectful of others. Any spam or trolling posts will be removed. Repeat offenders may be banned.