Format Legalities
Format:
Block Constructed
Standard (T2)
Extended
Modern
Legacy
Vintage
Commander (EDH)
Legal: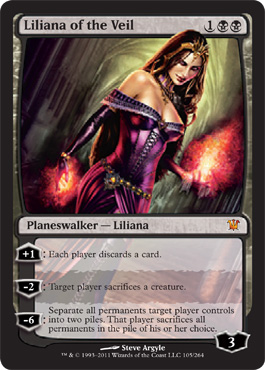 Official Oracle Text
+1: Each player discards a card.
-2: Target player sacrifices a creature.
-6: Separate all permanents target player controls into two piles. That player sacrifices all permanents in the pile of his or her choice.
Official Rulings
---
Comments on Liliana of the Veil
Feel free to post any comments or questions you have on this card. Please be respectful of others. Any spam or trolling posts will be removed. Repeat offenders may be banned