Fertilid

|

Magic: The Gathering
Formats Fertilid is Legal in
Block

Standard

Modern

Legacy

Vintage

Commander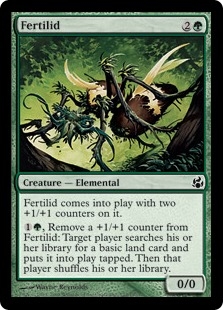 Official Oracle Text for Fertilid
Type:
Creature — Elemental
Card Text:
Fertilid enters the battlefield with two +1/+1 counters on it.
, Remove a +1/+1 counter from Fertilid: Target player searches his or her library for a basic land card and puts it onto the battlefield tapped. Then that player shuffles his or her library.
Official Rulings for Fertilid
4/1/2008 : Although the targeted player doesn't need to find a basic land card if he or she doesn't want to, that player must shuffle his or her library.


---
Comments on Fertilid
Feel free to post any comments or questions you have on Fertilid. Please be respectful of others. Any spam or trolling posts will be removed. Repeat offenders may be banned.