Consecrate Land

|

Magic: The Gathering
Formats Consecrate Land is Legal in
Block

Standard

Modern

Legacy

Vintage

Commander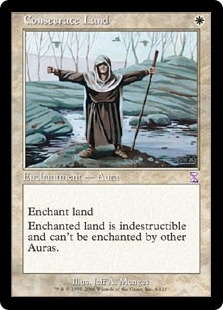 Sets Consecrate Land is in
Official Oracle Text for Consecrate Land
Card Name:
Consecrate Land
Card Text:
Enchant land
Enchanted land has indestructible and can't be enchanted by other Auras.
Official Rulings for Consecrate Land
4/1/2005 : The land can be targeted by land-destroying spells and the spell will resolve, but the land will simply not be destroyed.

9/25/2006 : If Consecrate Land enters the battlefield attached to a land that's enchanted by other Auras, those Auras are put into their owners' graveyards.

7/1/2013 : A permanent with indestructible can't be destroyed, but it can still be sacrificed, exiled, put into a graveyard, and so on.


---
Comments on Consecrate Land
Feel free to post any comments or questions you have on Consecrate Land. Please be respectful of others. Any spam or trolling posts will be removed. Repeat offenders may be banned.