Colossus of Sardia

|

Magic: The Gathering
Formats Colossus of Sardia is Legal in
Block

Standard

Modern

Legacy

Vintage

Commander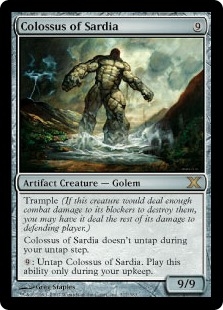 Sets Colossus of Sardia is in
Official Oracle Text for Colossus of Sardia
Card Name:
Colossus of Sardia
Type:
Artifact Creature — Golem
Card Text:
Trample (If this creature would assign enough damage to its blockers to destroy them, you may have it assign the rest of its damage to defending player or planeswalker.)
Colossus of Sardia doesn't untap during your untap step.
: Untap Colossus of Sardia. Activate this ability only during your upkeep.
Flavor Text:
Buried under a thin layer of dirt, it was known for centuries as Mount Sardia.
Official Rulings for Colossus of Sardia
5/1/2008 : The ability that untaps it during your upkeep has been returned to an activated ability. There is no restriction on how many times it can be untapped during your upkeep with this ability.


---
Comments on Colossus of Sardia
Feel free to post any comments or questions you have on Colossus of Sardia. Please be respectful of others. Any spam or trolling posts will be removed. Repeat offenders may be banned.