Badlands

|

Magic: The Gathering
Formats Badlands is Legal in
Block

Standard

Modern

Legacy

Vintage

Commander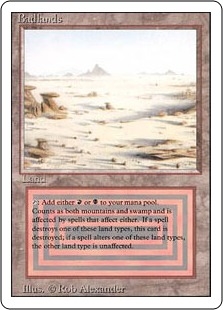 Official Oracle Text for Badlands
Type:
Land — Swamp Mountain
Card Text:
(: Add or to your mana pool.)
Official Rulings for Badlands
10/4/2004 : Land type changing effects that change a dual land's land type will remove the old land types completely. Text-changing effects that just change one of the two land types will leave the other type unaffected.

10/4/2004 : This card is a Mountain and a Swamp even while in the graveyard, library, or any other zone.

10/1/2008 : This has the mana abilities associated with both of its basic land types.

10/1/2008 : This has basic land types, but it isn't a basic land. Things that affect basic lands don't affect it. Things that affect basic land types do.


---
Comments on Badlands
Feel free to post any comments or questions you have on Badlands. Please be respectful of others. Any spam or trolling posts will be removed. Repeat offenders may be banned.