Arrest

|

Magic: The Gathering
Formats Arrest is Legal in
Block

Standard

Modern

Legacy

Vintage

Commander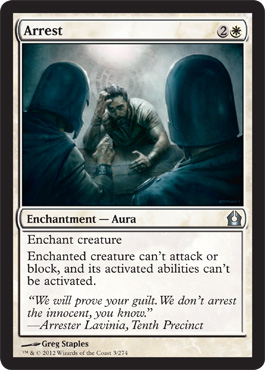 Official Oracle Text for Arrest
Card Text:
Enchant creature
Enchanted creature can't attack or block, and its activated abilities can't be activated.
Flavor Text:
"We will prove your guilt. We don't arrest the innocent, you know."
—Arrester Lavinia, Tenth Precinct
Official Rulings for Arrest
7/1/2013 : Activated abilities contain a colon. They're generally written "[Cost]: [Effect]." Some keywords are activated abilities; they have colons in their reminder text.


---
Comments on Arrest
Feel free to post any comments or questions you have on Arrest. Please be respectful of others. Any spam or trolling posts will be removed. Repeat offenders may be banned.