Ankh of Mishra

|

Magic: The Gathering
Formats Ankh of Mishra is Legal in
Block

Standard

Modern

Legacy

Vintage

Commander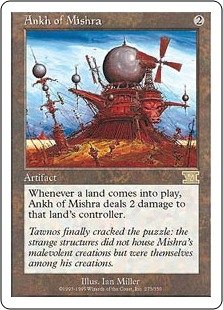 Sets Ankh of Mishra is in
Official Oracle Text for Ankh of Mishra
Card Name:
Ankh of Mishra
Card Text:
Whenever a land enters the battlefield, Ankh of Mishra deals 2 damage to that land's controller.
Flavor Text:
Tawnos finally cracked the puzzle: the strange structures did not house Mishra's malevolent creations but were themselves among his creations.
Official Rulings for Ankh of Mishra
10/4/2004 : This triggers on any land entering the battlefield. This includes playing a land or putting a land onto the battlefield using a spell or ability.

10/4/2004 : It determines the land's controller at the time the ability resolves. If the land leaves the battlefield before the ability resolves, the land's last controller before it left is used.


---
Comments on Ankh of Mishra
Feel free to post any comments or questions you have on Ankh of Mishra. Please be respectful of others. Any spam or trolling posts will be removed. Repeat offenders may be banned.