Format Legalities
Format:
Block Constructed
Standard (T2)
Extended
Modern
Legacy
Vintage
Commander (EDH)
Legal: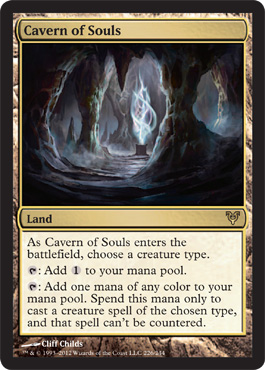 Official Oracle Text
As Cavern of Souls enters the battlefield, choose a creature type.

: Add

to your mana pool.

: Add one mana of any color to your mana pool. Spend this mana only to cast a creature spell of the chosen type, and that spell can't be countered.
Official Rulings
---
Comments on Cavern of Souls
Feel free to post any comments or questions you have on this card. Please be respectful of others. Any spam or trolling posts will be removed. Repeat offenders may be banned