What's New: Magic 2015 Core Set Changes
---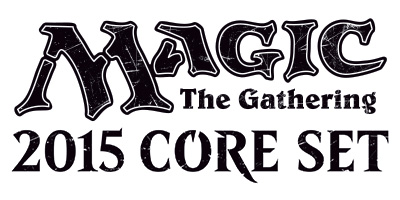 Magic: The Gathering core sets usually bring some changes to the game with them and this year's core set, M15, will bring some very noticeable changes. If you've viewed our M15 Visual Spoiler then you've likely seen some of the changes already. We'll explore all the changes in detail below to give you some background on what's changing and why.
---
Card Changes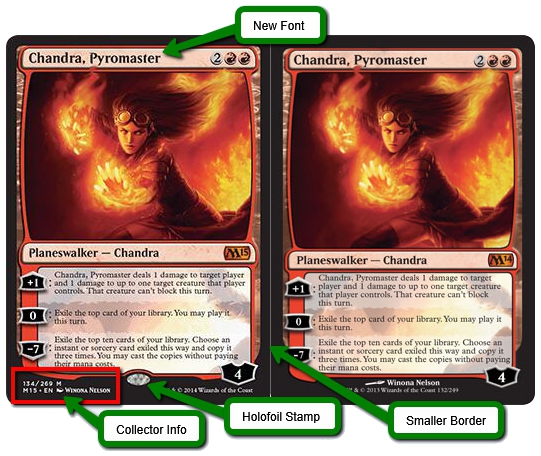 The Magic 2015 Core Set (M15 for short) will feature a few physical changes to Magic: The Gathering cards. For the first time since 8th Edition the card frame will be changing.
Smaller Borders. The black border around the card has been decreased by almost a millimeter on all sides. This decrease allows for more room on the card for text and art, which is what everyone cares about anyway. This is definitely a welcome change!
New Font. For the first time in Magic: The Gathering's history, Wizards of the Coast has created their own font for their cards. Every font used on cards prior to M15 cards was an existing font available to anyone who cared to look for it. Not anymore! The new font is called Beleren and was inspired by the previous font, Matrix Bold. They share some similarities so don't feel too bad if you don't notice the new font right away. Aside from giving Magic cards a unique look and being able to name a font after their star character, a unique font will make it harder for counterfeiters to create fake Magic cards.
Holofoil Stamp. The holofoil stamp is a little silver oval that will be added to all Rare and Mythic Rare cards from M15 onward. The holofoil stamp, as Wizards of the Coast puts it, makes cards "feel more special, as well as guarantees authenticity." In other words, it makes it harder for counterfeiters to make fake cards.
Collector Info. Wizards of the Coast has decided to move the collector info section and add some information to it. The section is moving from the bottom-center of the card to the bottom-left of the card. It will now contain a card's collector number (134/269 for Chandra), rarity (M,R,U,C), three character set code, language, and artist name. The little dot between the set code and language will be a star for premium cards. Basically, the collector info section will contain all the information about a need you'd need at a glance. They state that the reason they've made this change is because the new section is machine-readable by software at their production plants and should help eliminate packaging errors. That means no more sneak-peaks at future sets by getting future cards in booster packs.
---
Additional Cards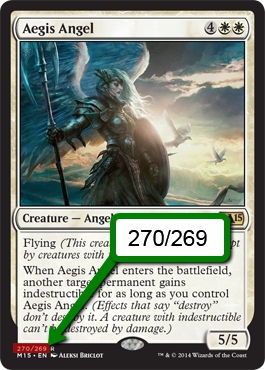 If you've been following our M15 Visual Spoiler then you may have noticed that there are some cards that seem out of order. If you were really paying attention then you might have noticed that those cards have collector numbers past the total size of the set. Don't worry, you're not losing your eyesight or your mind. Wizards of the Coast has announced that they are adding additional cards to this year's core set. These cards will only be available in the Magic 2015 Deck Builder's Toolkits and the 30-card Sample Decks that Wizards provides to stores and Magic: The Gathering organizations. They will not be available through booster packs and are not considered to be part of the set. These cards will be, however, legal in any format where M15 is legal. In total, there are 15 additional cards in the Magic 2015 Core Set. They are:
---
Designer Cards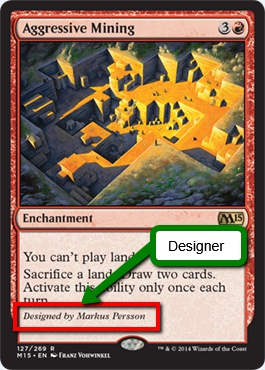 Designed by Markus "Notch" Persson — creator of Minecraft and founder of Mojang
There are 15 cards in the M15 set that were designed with help from non-Wizards of the Coast designers. Each of these cards credits the designer of the card where the card's flavor text would normally appear. Below is a list of designers and their cards.
For more information on the process Wizards of the Coast used to work with these designers and to see some of their original designs, check out Working with Some of the Best Minds in Gaming by Shawn Main over on the offical Magic: the Gathering website.
---