The Sound of Magic: The Crack Heard 'Round the World
---
I love onomatopoeias. I love travel. And I love Magic: the Gathering. And, yes, I love them all together, simultaneously. Now, how the heck, you would say (in my imaginary conversation with you), do those three have anything in common? Well, I'll tell you.
The word CRACK!, an onomatopoeia, describes the sound of a Magic player cracking (! ) open a pack of booster cards or a new theme set. CRACK! also describes the sound of fireworks exploding over your head, as happens annually in Quebec at the International des Feux Loto- Quebec, the largest fireworks competition in the world. I want to see the largest fireworks competition in the world, don't you? And, considering I've never been outside the U.S. (unless you count a cruise to Ensenada on a high school fieldtrip, where I never stepped foot off the boat. I don't), it sounds like a really exciting adventure to travel to Quebec. The culture, the food, the Magic community.
You see, I love learning, too. And the more I learn about Magic: the Gathering, the more I realized the community really is global, and I wanted to learn more about players like Samuel Carrier, who hails from Quebec, where he plays the competitive Magic circuit. Carrier first experienced the beautiful, haunting world of Magic through high school dinners in his city, playing casually with groups of friends. A few years later he developed a serious fascination for the game and cracked open his first pack of Magic cards, "some fourth edition booster."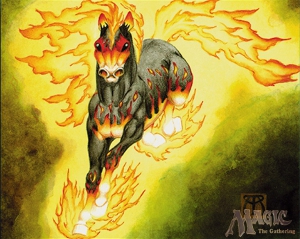 "I remember I really liked the card Nightmare. It had a horse on fire on it," he says. The images on the cards are simply gorgeous, and they transport the player to a world completely other, a world where zombies and vampires and terrifying creatures of the night (and day) come alive in your hand, (im)patiently waiting to wreak havoc upon the battlefield.
Having played Magic for ten years and learned the ins and outs of the game, Carrier favors black/green decks, and "as for standard, right now I am playing a mono black devotion." He likes midrange versatile or tempo decks, where "the strategy is to slow down your opponent [by] casting spells such as Remand, a spell that counters my opponent's spell but returns it to his hand and [allows me to] draw a card."
One of Carrier's favorite plays of the game is when he casts a "supreme verdict that kills three creatures so I gain card advantage." Sounds…opportunistic. Even, dare I say, ruthless? I'm intrigued. He also likes games that "give a good fight, even if I win or lose. As long as I can play my game and enjoy it, I'm good with it." Ok, now I really want to play this guy.
I was also interested to learn that when he got into the game, Magic: the Gathering wasn't well known in his city and he had no players to battle. However, Carrier says the Magic community in Quebec has grown considerably in the last few years, due to more websites connecting Magic players around the country and, if I may presume, the globe.
"The internet [brought the] Magic community over North America together more than ever. Even some pro teams have Americans and Canadians together, which is awesome," Carrier says. I would love to attend a tournament in Quebec. It sounds like a treat. And there's so much to do and experience! Between the fireworks extravaganza and the World Film Festival, not to mention the other 128 grand events hosted in Quebec over the calendar year, you're sure to see something spectacular.
I can't wait to crack open a new Magic pack with my new friends to the north, and learn all sorts of things about their exciting country. So please excuse me while I go research affordable trips to Quebec.
Aw, man. That means I'll officially have to apply for a passport.
---