---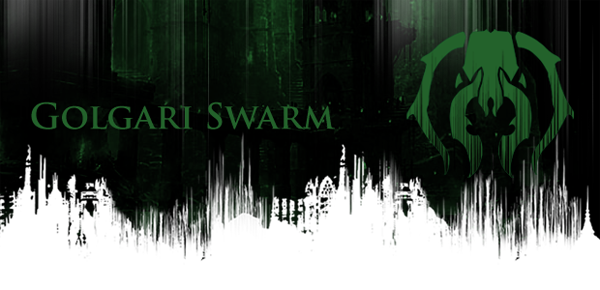 I remember in my early days of Dungeons and Dragons, when classes were pretty straight forward with Fighters, Clerics, Mages, etc… I had dreams of something a little more in depth. Yes, the Druid class was available, but I wanted something with a little more of a twist. An undead Druid that utilized not only the energies that pulsed through the vines and branches of Mother Nature, but the husks and carcasses that had perished in the never ending circle we know as life. How I thought what a unique character it would make, aiding his fellow party members by overwhelming invading Goblin hordes with a swarm of undead Chipmunks and Zombie Bears. Now that sounds like a good time.
Well years separated from my daydreaming of Blight Druid glory, we have Magic the Gathering, and specifically the Golgari guild. A guild that puts the kind of spells an undead puppeteer of the woods would need right at my fingertips. So let's take a closer look at the mightiest guild in the Magic the Gathering realm, the Golgari.
First off, let's give credit where credit is due. The Golgari Guild has to be the most environmentally conscious group in the realm, as they recycle everything. Dead? No problem, you're still just as crucial to the armies overall success as if you were alive. In fact in some cases, dead is preferable as your remains are used to bolster the living members of the guild. Let's talk some of the especially powerful members of the guild and some of the Golgari's specific tactics.
Dredge me up something good, and I know my fellow members of the Magic community know of what I speak. This is one ability that is a trademark for the Golgari. I love digging through my library and hand picking the cards I want out of my graveyard, and if that same card happens to end up in my graveyard again, I'll just dredge him out again. So you better have some exiling capabilities if you're going up against the Golgari.
Like I said earlier in the article, being dead in the Golgari guild isn't so bad. I can always just go on a scavenger hunt, and once again this is an inside joke with all my fellow Planeswalkers. Scavenge is another very essential ability to the Golgari guild. Creatures with the Scavenge ability can be used to empower their allies. Just pay the Scavenge cost on the card, and the dead creature's power is now added to the living creature in the form of +1/+1 counters. No one can ever say the Golgari are not a prudent bunch
Now for some of my favorite members and spells within the Golgari guild set. First and foremost, I love the Corpsejack Menace card. You get this 4/4 baddie out there at a very reasonable converted mana cost of four, protect him with some sort of hexproof artifact (Mask of Avacyn is my preference) and you can sit back and watch your creatures get enormous very quickly. I always have two of these guys in any Golgari deck I play. Then I always have a Golgari Grave Troll in the mix, if not two. This guy refuses to go away, having regenerative capabilities and Dredge, and he can be quite powerful depending on how many creatures are in your graveyard. These are just a couple of the foundation cards for any Golgari deck.
Then come the big moss covered guns. Can't go anywhere as a Golgarian if you don't bring Jarad, Golgari Lich Lord along for the ride. He can sit back and take enormous chunks of life from opponents by sacrificing his own troops that have been enlarged by the aforementioned Corpsejack cards. All the while, every carcass he throws on the pile bolsters him with a +1/+1 counter that he is credited with for every creature in the graveyard. Oh, and did I mention he also has regenerative capabilities? As if this was not enough to strike fear into even the most courageous Planeswalkers, let's just throw in the new addition to the family, the mighty Mazerunner, Varolz the Scar Striped. At the converted mana cost of only three, he gives every creature in your graveyard scavenge, and can be regenerated by sacrificing any other creature. I don't think this is exactly what Elton John had in mind when he wrote the circle of life song, but it definitely qualifies.
So this was just a brief chat about the unique and awesome capabilities of the Golgari guild. I only mentioned a few of the core cards. I haven't even scratched the surface when it comes to some of the dangerous ladies in the Golgari guild (Sisters of Stone Death and Savra, Queen of the Golgari). I have plenty of ideas of what to do with this guild, as I'm sure many of my fellow Golgarians do. I want to hear some feedback, let me know what kind of undead gardening you would unleash and how you would do it. If you're a fan of the Golgari like me, let's talk shop and kick the fungus out of all those lesser guilds.
All hail Golgari!!!
---